Weegeetnik

Biographical Information
Birth
22 August 1996
Birthplace
Lesquin, France
Residence
Lallaing, France
General Information
Morality
Chaotic Neutral
Attitude
Reserved, lazy
Gender
Male
Height
184.4 cm/72.6 in
Hair
Chestnut brown
Eyes
Brown
Other Information
Occupation
Unemployed
Hobbies
Gmoding, gaming,
drawing, television
Friends
000marioshi000
ASpider25

Contribution
All my freaks

"Undertale is better."
―Weegeetnik on how cancerous the FNAF fandom is.
My name is Romain Wattrelot, best known as Weegeetnik, I am a french Gmoder, TF2 player, video-maker and drawer who is on YouTube, deviantART, Steam, the TF2FreakShow wiki (Thank you, Captain Obvious), inter alia.
I created a few TF2 Freaks between 2011 and 2013, only in a dumb attempt to become more popular.
I''m no longer really active here.
My TF2sona
My TF2sona is a BLU Scout, wearing the Front Runner with the Stylin' style (LUL :3) and painted in Mann Co. Orange, the Op Specs, and the RED Big Smoke Sneakers from the Scout Pilgrim Set.
I may also wear the Courier's Coat and black painted Flip-Flops.
My TF2sona was intended to be a modified Engineer, but due to technical reasons, I eventually choose my TF2sona to look like more what I am in real life.
Favourite monsters
Monsters I don't like
History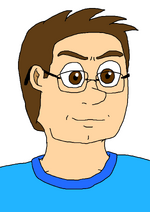 Personality and life
Links
Community content is available under
CC-BY-SA
unless otherwise noted.