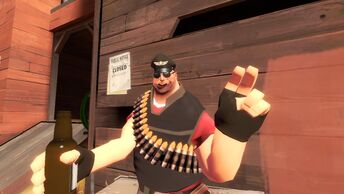 Inspector Heavy is a Gmodder who makes Gmod Videos on Youtube!
He is also a Gmod Character!
He use sometimes SFM! His Videos from SFM was Meet the Inspector Heavy,The Angry Engie and much much more!
His first encounter was at his Video Soldier has something!
Watch his channel:www.youtube.com/TheSirCupcake
He's befriended with Uberman765, Uncle Crusty and ugotaphonenumber and more other Gmodders/SFMers.
He is also know as a Hero for help good people.
He also has Superpowers:
With his Lava body he can melt Ice, Iron and Burn everything down! (He only uses for enemys and rivals on a fight!
Trivia
He is a former TF2 Gmodder
He makes Recently Splatoon Gmod Videos
He Changed his name from Inspector Heavy to Heavy The Squid
His channel as almost 40k Subscribers!
Community content is available under
CC-BY-SA
unless otherwise noted.